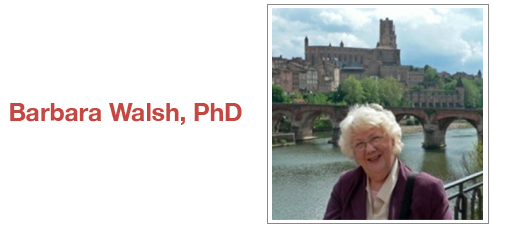 When Irish author and historian Barbara Walsh gained a doctorate in history from Lancaster University in 1999, she had already enjoyed a long and productive career which had encompassed a number of creative outlets as a writer, artist, broadcaster and multi-media producer. This activity included features, short stories, plays and commercial work for radio and TV.

Published work includes:
BOOKS:
Forgotten Aviator Hubert Latham: a high-flying gentleman (The History Press, UK, 2007)
The authoritative biography of pioneer aviator Hubert Latham based on his own private papers and other primary sources. Now up-dated by two revised and improved editions containing many additional and unique illustrations.
The U.S.A. edition Hubert Latham 1883-1912: Forgotten Aviator: A Man of his Time (Odyssey, Dublin, 2013) And
French language edition (Translated by Marie Léoutre) Hubert Latham: Un Pilote Méconnu 1883-1912 (Les Editions de l'officine, Paris, 2013)
Read more
When the Shopping was Good: Woolworths and the Irish Main Street
(Irish Academic Press, Dublin & Portland, Or., 2011)
The hugely popular nostalgic story of Ireland's most iconic shopping experience.
Read more
Roman Catholic Nuns in England and Wales 1883-1937 (Irish Academic Press, Dublin & Portland, Or., 2002)
Based on the author's Doctoral thesis in 1999, this work presented a ground-breaking definitive text for students of the history of women religious.
Read more
Sisters (Blackstaff Press, Belfast 1980)
A co-authored a collection of short stories. The author's contributions were written under the name of Barbara Haycock Walsh.
Read more
JOURNAL ARTICLES : Details
Contact: barbaraw@barbarawalsh.com
Barbara Walsh has previously written and broadcast under the names of:
Baibre Breathnach - Barbara M. Walsh - B. M. Walsh - Barbara Haycock Walsh