Forgotten Aviator Hubert Latham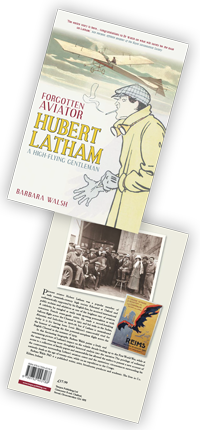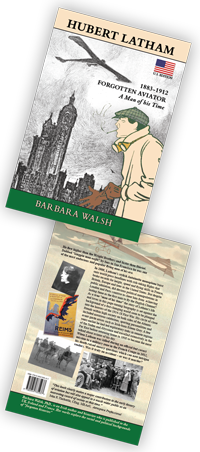 Forgotten Aviator Hubert Latham: a high-flying gentleman, published in 2007 by Tempus Publishing, an imprint of The History Press, is an authentic biography of pioneer aviator Hubert Latham who was Bleriot's rival for the Daily Mail's prize for the first aeroplane flight across the English Channel in July 1909.
Following almost six years of research on the life of this ill-fated young hero, Barbara raises several intriguing questions. What lay behind French commercial aspirations in Abyssinia in 1907? Why was he cheated from success the Channel Flight prize? Who was behind the real circumstances surrounding his mysterious death in the French Congo three years later?
The book tells the story of a short, but action-packed life which encompasses more than the tale of one traveller, sportsman and aviator - it follows the trail of the many unusual characters who peopled Latham's life - his friends, his colleagues and romantic loves.
It traces his encounter with behind-scenes politics, the military preparations for armed conflict - both technological and psychological - and the colonial aspirations of governments in Africa in the decade leading up to the First World War.
This was the era known as the Belle Epoch. It was a world, soon to disappear, which saw the froth of social intercourse in arts, engineering and wealthy patronage underlying dark political manoeuvrings. Adored by his fans, Latham had hit the headlines when he flew his Antoinette aeroplane in competitive aviation events in the UK, Europe and North America. In 1907-8, prior to his aviation career, he had led treks into bandit-ridden Sudan and Abyssinia. Then, in 1912, while on another expedition in the African bush, he died in mysterious circumstances in a remote out-post of the French Congo not far from Tchad - an incident which the author's access to Latham's previously unpublished private journal and papers can now throw some fresh light on.
'The entire story is here... Congratulations to Dr. Walsh on what will surely be the book on Latham'
Ken Harman, Affiliate member of the Royal Aeronautical Society.
'Clearly and beautifully written... this work takes the imagination to a time of excitement and sparkle shortly after the dawn of aviation... Whosoever the reader may be; historian, pilot, booklover or perhaps all three, enjoy it, I certainly did.'
R.Hitchcock, Amazon.co.uk.
'This book clearly makes a major contribution to the early history of aviation but will also appeal to a much wider public as an interesting record of society at that time.'
John R.Thirkettle, CEng. MRAeS The Aerospace Professional, March 2008.
Read full review from The Aerospace Professional